Welcome to Another Weekend Coffee Share!
Well, I'm not quite sure what to offer you with your cuppa tonight. On Friday night, I made a Bombe Alaska for my friend's 60th Birthday. Unfortunately, the meringue slid off the ice cream centre and the brandy wouldn't light. So, you could say that it was "Fizzer Alaska" instead.
However, it tasted good anyway. I'd added a few extras like a layer of Nutella Butter Cream and roasted hazelnuts over the cake for extra lusciousness. It was yum and a lot of fun, even if it didn't go according to plan. By the way, if you're a keen baker or fancy a bit of dessert, you might like to check out my previous post.
Last week, was fairly difficult overall. Our teenaged kids are keeping us on our toes with our son not seeing the point of doing his final year of school and looking at TAFE to pursue sound engineering. It sort of makes sense, but it's still a big decision and it's taking me time to get my head around the ramifications of it all. As if that wasn't enough to think about, our daughter has been making some poor choices of late, and we're needing to get our heads around that too. Long gone are the days where we could physically pick up our children when they were running off the "wrong" direction. Now, we're needing to try to work with the teenage brain, which science tells us is potentially incapable of making good rational choices until they're 25. Yet, this unregulated teenage mind is moving forward at full throttle thinking it knows it all, knows what's best and can do anything it likes. Sometimes the only thing standing in the way is their hapless parents, school authorities, or when things go really pear-shaped, the police. Meanwhile, I keep dropping what I view as pearls of wisdom into the hapless subjects' minds while driving them from A to B. It's a bit like dropping coins in a money box, except it seems that the plug at the bottom has often been pulled out and lost. Consequently, the coins are often falling straight through and rolling away. It's not a very encouraging picture. However, somehow most teens and their parents survive to adulthood so it's not all doom and gloom after all. I live in constructive hope.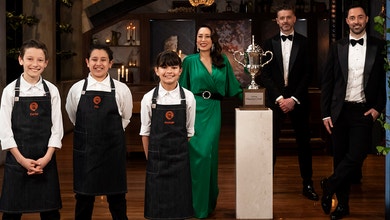 In addition to doing my baking at home, I've also loved watching Junior MasterChef and tonight is the Grand Finale. I've been so incredibly impressed with the dishes put up by the kids. They really knocked my socks off. If you'd like to watch any of the past episodes, here's the link: https://10play.com.au/junior-masterchef-australia and you can find the recipes there too if you're feeling particularly daring. Just because these cooks are young, doesn't mean their dishes are any less impressive than their adult rivals. These kids are potentially the great professional chefs of the future and this pool of talent is a cut above the usual contestants for the adult version of the show. indeed, they're absolutely mind boggling. I can't wait to see who is going to win, and how the show is going to unfold.
However, before I move on from Junior MasterChef, I just heard the most priceless comment from one of the contestants, Georgia. You see, they've invited their mums onto the shows for the finale. Now, these kids have been doing just fine without their mums on set for the entire series, and have been able to go it alone. However, now they've reached the finale, mum is calling out from the gantry. My message to the mums is to back off. I think they know what they're doing. These thoughts were going through my mind when Georgia piped up and said: "Who invited our mothers along?" Well, at least Filo is pleased his mum's there.
Meanwhile, my WWI bio research is going really well. I have no idea how it's going to find its place out there in the real world, because it's a bit out there and it seems to sit somewhere in between academic history, creative writing, documentary and a movie script. Each of these things are ambitious on their own, and challenging the world order probably verges on suicide. After all, each of these disciplines is probably in its own box for a reason. I guess I'll be finding out what happens when I break multiple moulds at once. Well, that is once I get all of this finished…
Oh well. Another week has begun. OMG! Do you ever have Mondays where the prospect of another week just wears you out, as you haven't had enough time to recover from the week that's been, or to resolve the splatter on the roof its left behind? Perhaps, I've been spoiled for awhile, because in so many ways life has been a lot simpler this year due to covid. While we've had to deal with the complications of hand sanitiser, masks, gloves, social distancing and toilet paper shortages, so many activities were cancelled that we haven't been buzzing off over the place like manic bees trying to get everything done and take kids to three different places at the same time while trying to have some kind of a life ourselves. It's been nice taking up the piano again, doing my extreme baking and doing hours of research. Indeed, it's probably been something of a luxury…especially with my husband working from home and not commuting for three hours a day.
PS The last word on the Masterchef Junior front goes to Georgia's Mum as she ate her daughter's dessert the "Tropical Mess"…"she's tricky to make a lunchbox for. She's very particular with her flavours." You've got to feel for the mother of Junior MasterChef." I have some empathy with her. My kids have both been super fussy eaters and are very particular even if they aren't MasterChefs themselves.
PPS I know I haven't actually finished this post yet. However, I'd forgotten all about touching on the US election. I don't know if I would've voted for Trump or Biden, but I' looking forward to the changing of the guard.
Well, on that note, I'd better head off.
This has been another Weekend Coffee Share hosted by Eclectic Ali. Here's the link: https://eclecticali.wordpress.com/
Best wishes,
Rowena